Our expertise is in the handling and shipping of all types of motorcycles.
We are THE professional bike shipping agency in Nepal. We strive to provide the very best and most cost effective solutions. Simplifying the logistics involved in getting YOUR bike safely and quickly to the chosen destination, be it anywhere in the world. Have a look at the photos below to see our team hard at work, building a custom made crate for a customer's bike, prior to shipping.
Our dedicated and highly experienced team is at your service. We even offer a collection service, if you are unable to deliver your bike in person to our depot.
Please feel free to contact us and we can discuss any detail regarding shipping your bike to its next destination in the world.
Eagle Export Cargo Ltd. will always recommend taking out Marine Insurance during the transit of your bike or vehicle. This can be arranged for you via our broker, or if you prefer, through an independent body of your choice.
Before you decide to undertake the shipment of any vehicle into any country, you must first ascertain any customs implications and additional costs involved. These are normally charged when the shipment arrives at its destination and before collection.
We recommend that you contact all necessary parties before orchestrating any such arrangement.
We are happy to advise you on the logistical headaches involved. Also have a look through our 'useful links' page. Many queries and questions are answered there by our associate specialists in their chosen professions.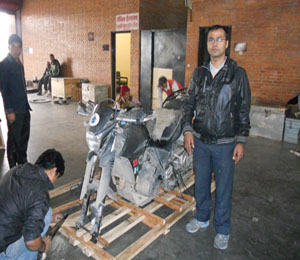 Don't forget, we're the best in Nepal when it comes to shipping your bike anywhere in the world.